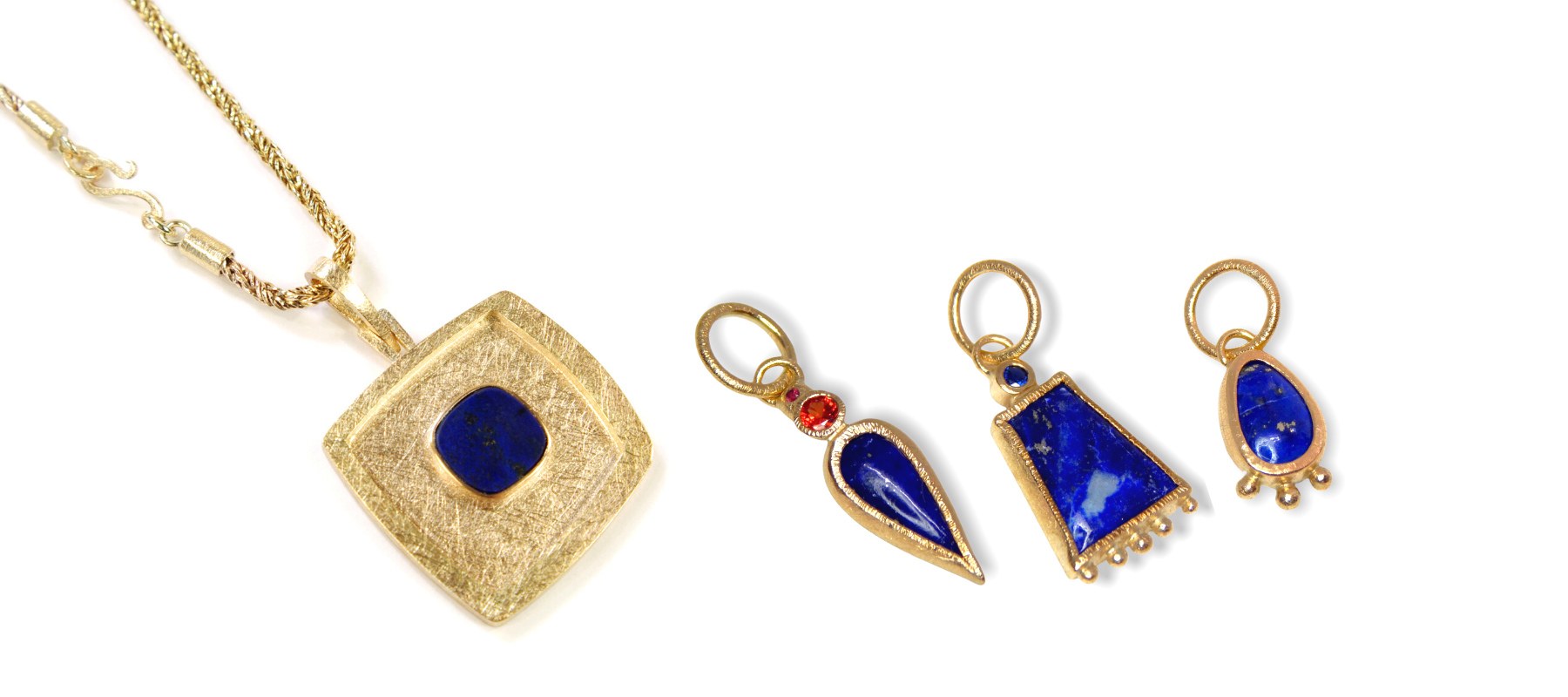 BIRTHstones & WEDDING ANNIVERSARY BLOG
Lapis Lazuli - The Stone To Help You Reach For The Stars, Speak Your Truth & Protect You Against The Evil Eye


Alternative September Birthstone & Given As A 7th & 9th Wedding Anniversary Gift
Whilst most associate the birthstone of September to be Sapphire, there is a second alternative and equally exotic stone for September babies and thats - Lapis Lazuli!
Traditionally in my work, Lapis hasn't been a stone I have typically worked with. Mainly because it is opaque and I'm personally drawn to the sparkle of a faceted stone or the sweetie-like qualities of a juicy cabochon. 
However, after researching about how the ancients associated Lapis and its rich cobalt blue colour to that of the sky and its flecks of gold to the stars... 
And seeing that much of my nature photography focuses around the blue colours of the ocean and the rich sky blues…
... it's time that this azure-like starry stone joins my jewellery family.
Read on to find out more...
Lapis Lazuli is said to be one of the most sought after stones throughout history. Its deep cobalt blue colour was regarded to be 'celestial' in nature and hence became a symbol of royalty and honour, gods and power, spirit and vision, wisdom and truth.
Its name comes from the Latin word 'lapis' - meaning 'stone', and the Persian word 'lazhuward' - meaning 'blue'. 
It is typically a rich medium to royal blue colour with gold flecks in it which is the substance 'pyrite'. It also comes in lighter blue shades with more white than gold flecks - sometimes called 'denim Lapis'.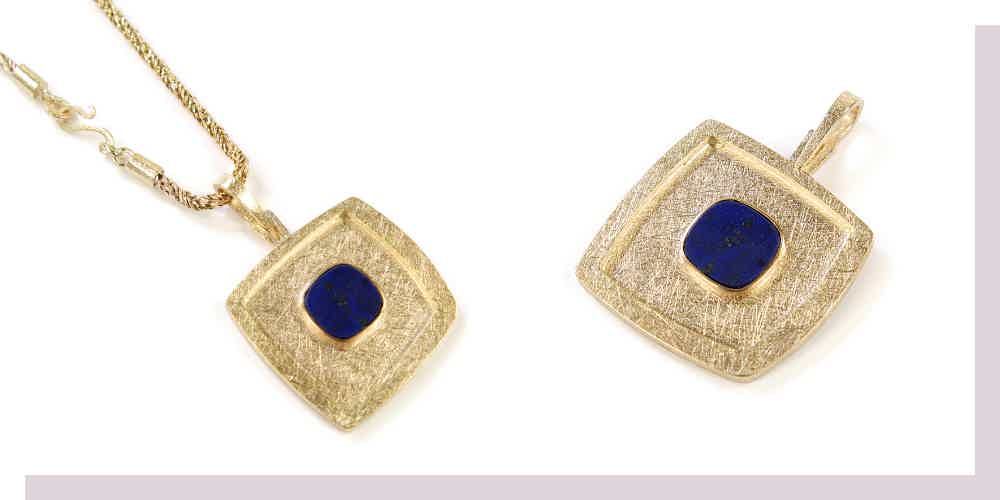 Custom Bespoke Pendant Set With A Cushion Shaped Lapis For Roisin - All Remodelled From Old Sentimental Gold & Family Jewellery
Lapis May Have Been Known As Sapphire In Ancient Times
Interestingly, referenced in the Old Testament was the word 'sapphire' - also meaning 'blue stone'. 
But as sapphires were initially unknown in that part of the ancient world at that time, references to sapphire stones are most likely actually Lapis Lazuli!
Lapis Lazuli was among the most highly prized resources of ancient Egypt, obtained from the oldest mines in the world, worked from around 4000 B.C. and still in use today. 
The golden sarcophagus of King Tutankhamen was richly inlaid with Lapis, as were other burial ornaments of Egyptian kings and queens. It was used extensively in scarabs, pendants and other jewelry, and ground into powder for dyes, eye shadow and medicinal elixirs.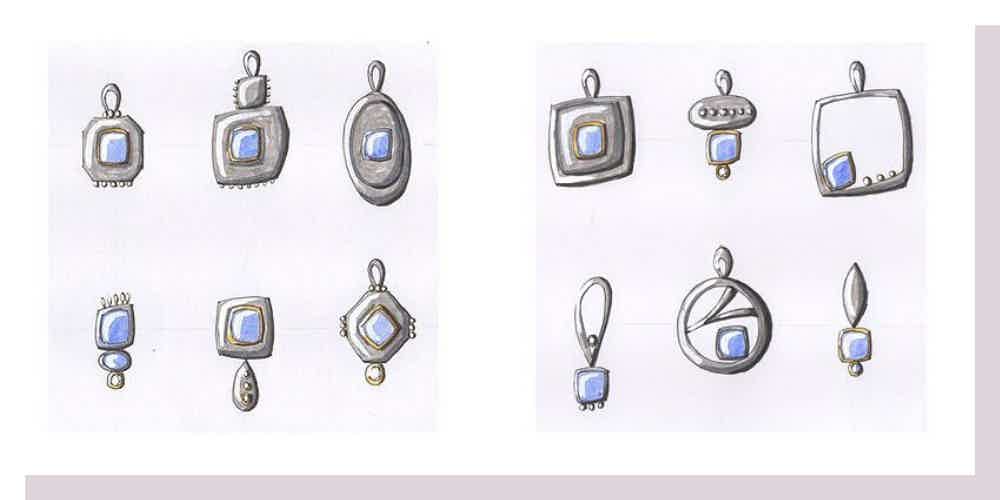 Custom Bespoke Designs For Lapis Pendants
To the Egyptians, the deep cobalt blue colour was seen as a spiritual contrast to their desert hues. The gold flecks were like stars in their night-time sky and they meditated on these colours to welcome supernatural forces to transform their lives. 

In ancient Persia and pre-Columbian America, Lapis Lazuli was also a symbol of the starry night.

In the Islamic Orient, lapis was favoured for protection from the evil eye. 

In medieval Europe, lapis was thought to resemble the blue of the heavens and was believed to counteract the 'wiles of the spirits of darkness' in favour of the spirits of light and wisdom.

And the Buddhists recommended Lapis as a stone to bring inner peace and freedom from negative thought.

Working On A New Collection Featuring Lapis Lazuli Called 'Azure'
Lapis As A Stone Of Spiritual Enlightenment
With its association to the starry skies and the heavens, it's no surprise to find that the ancients believed Lapis was used as a stone to stimulate enlightenment and spiritual power, it could enhance dream work and psychic abilities and it facilitated spiritual journeying.
Lapis was thought to possess enormous serenity and therefore could be used to quickly release stress, bring deep peace and was the key to spiritual attainment.
It was worn as a protective stone that contacts spirit guardians - in that it was said to recognise 'psychic attack', block it, and then return that energy to source. 
Lapis was said to be a stone that harmonizes the physical, emotional, mental and spiritual levels. Bringing balance and harmony and deep inner self-knowledge.
Lapis was thought to teach about the power of the spoken word. Especially if repressed anger was causing difficulties in communication - Lapis releases these.
To this end, it was believed that Lapis had the ability to reverse a curse or 'dis-ease' caused by not speaking out in the past.
It was a stone worn to help you to take charge of your life, reveal your inner truth, encourage self-awareness and allow self-expression without holding back or compromising.
Therefore Lapis was thought to be a stone that allows the wearer to be honest and compassionate.
Working On A New Collection Featuring Lapis Lazuli Called 'Azure'
Lapis Lazuli was believed to have the power to alleviate pain, especially migraine headaches.
It was thought to benefit the respiratory system particularly the throat, larynx and thyroid; it can work on the nervous system, being used to help overcome depression; and cleanses the organs, bone marrow thymus and immune system.
Lapis was also used to overcome hearing loss, alleviate insomnia and could purify the blood and lower blood pressure.
It is said to be most beneficial to wear Lapis Lazuli at the throat or third eye.
ASSOCIATION WITH WEDDINGS
Lapis Lazuli is said to be a stone that bonds relationships in love and friendship and aids in helping the couple to express feelings and emotions.
A perfect stone to gift for 7th and 9th wedding anniversaries!
In ancient times Lapis Lazuli was most highly regarded because of its beautiful colour and the valuable ultramarine dye derived from it. 
And my favourite, being an artist, was that it was ground into powder to produce the intense and very expensive pigment which was then used to make ultramarine paint.
I absolutely adore the rich colours of cobalt, azure and ultramarine blue and have always been fascinated by the blue hues of the sky and sea. My photo feed must literally contain thousands of images I have snapped over the years - and from all over the world.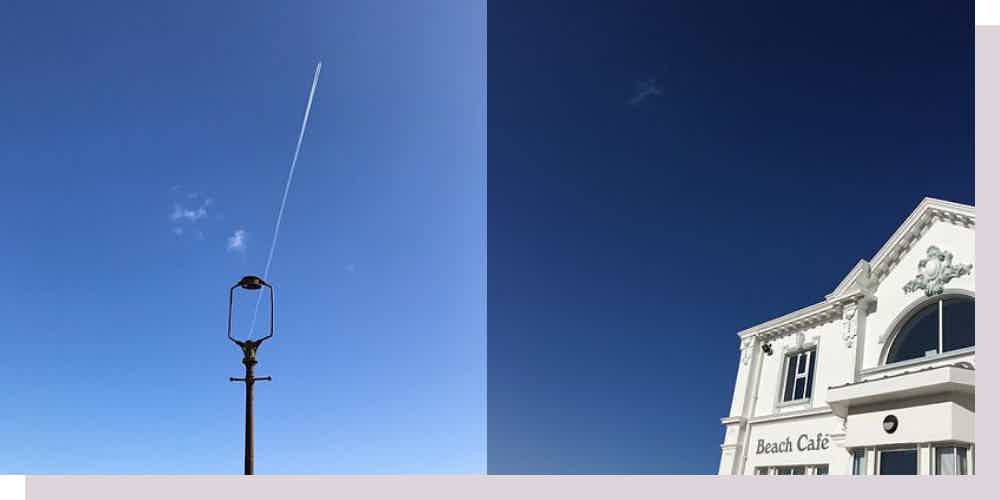 (Left) Azure Sky In Portugal (Right) Azure Sky In N.Ireland
And so as a perfect ending to this blog, let me introduce you to my Azure Collection. 
A series of one-of-a-kind pieces featuring Lapis Lazuli set in the richness of yellow gold and enhanced with some sparkly gems!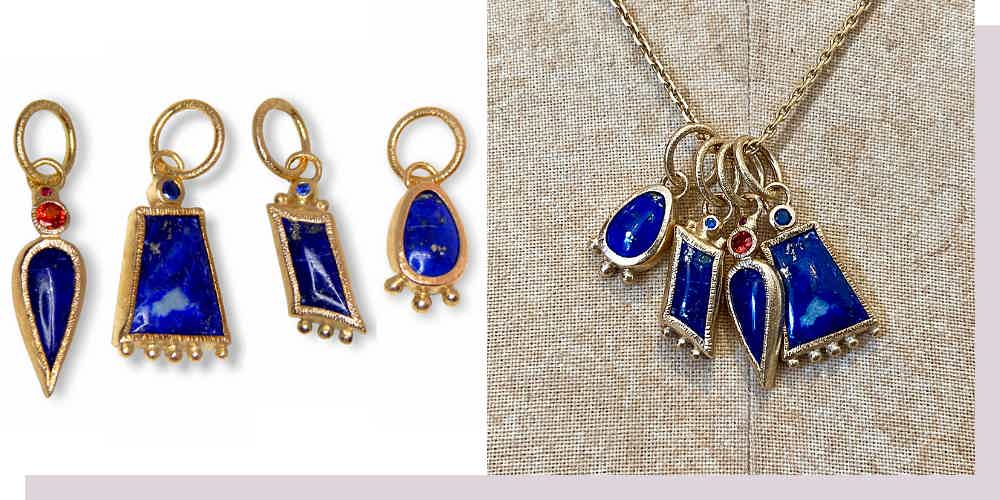 (Left & Right) Gold & Lapis Charms From The Azure Collection
Wear a Lapis charm pendant so that you can stare longingly into the starry night, enhance your spiritual journey, protect yourself from the evil eye and transform your life by always speaking your truth!
you might also like to read about...